Best Place to Stay in Key West on the Beach
This page may contain compensated links. For more information read our disclaimer here.
by Kristin Young | Updated On: January 25, 2022 | Florida Keys
If you want to find the best place to stay in Key West on the beach, you're in luck. This guide will you walk you through all the finest options the island has to offer.
Perhaps surprisingly, Key West isn't as abundant in fabulous beaches as many people think, due to the fact that the coastline is very rocky in parts. For this reason, some of the sandy spots found here are actually man-made.
While this Florida gem has so much more to offer than just beach life, this guide will help anyone who's craving soft sands to find the ideal option among the top hotels in Key West on the beach.
Whether you'd prefer to stay in a peaceful place or want to be based on the livelier side of town, the best place to stay in Key West for couples, families, solo travelers and groups will depend on your preferences as well as your budget.
From the dreamy sounding Coconut Beach Resort or romantic Sunset Key Cottages to Casa Marina Key West or the southernmost beach resort, read on discover the perfect place to stay and play during your Florida Keys vacation.
In a hurry? Here are the best places to stay in Key West for beach lovers:

When you want to stay on the more tranquil as side of town, Casa Marina is impossible to beat as it enjoys a peaceful position on a spacious sweep of soft, creamy sand.

If you like being close to the action, opt for Pier House, which is ideal for all fans of glorious sunsets as well as partying and soaking up the sun on a private beach.

Or for sheer escapism, go for Sunset Key Cottages – a secluded beach location that feels as if it's a million miles from the crowds.
In this post:
MAP OF BEST PLACES TO STAY IN KEY WEST
WHERE TO STAY IN KEY WEST
The best places to stay in Key West, Florida on the beach are spread across the area, so there isn't a one-size-fits-all answer regarding where to stay in Key West, FL. And we wouldn't want it any other way – who wants to live in a world where we all like the same things?
The best location to stay in Key West is therefore the place that matches your vacation requirements as perfectly as possible. As well as your budget. If you're not sure what area has the best things to do in Key West, we have plenty of our favorites here– and you know the snorkeling will always be at the top of our list.
Here's a brief outline of the options, so you can select the best part of Key West in which to base yourself – while enjoying magnificent ocean views and the freshest sea breezes!
Old Town
When looking for the best area to stay in Key West, it's worth knowing that the island's Old Town has a lively side as well as a more peaceful part.
The latter has a spacious sandy beach, while the former – also known as the Seaport area – is where to be after dark. There are some smaller beaches on this side of the Old Town.
Key West's Old Town is also close to many of the region's cultural and historic attractions, and staying in this district gives visitors the easiest access to the best of Key West.
Hotels:
Sunset Key
Sunset Key provides for many the ultimate island getaway, but it's worth bearing in mind that if you stay here you are at the mercy of the local water shuttle service. This does run frequently, however.
With holiday cottages and elegant Latitudes restaurant at Sunset Key, this private island is still one of the top places in Key West, especially for those taking a short break or seeking a laid-back and restful vacation.
Due to the fine dining restaurant and the fact that Sunset Key is privately owned, this area retains something of an exclusive feel.
Hotels:
New Town
Close to the airport, several of the best resorts in Key West are located in the New Town area. Staying here can feel like something of haven to unwind in after a hectic day of sightseeing or snorkeling.
New Town, Key West also has a more contemporary feel than the Old Town, and is home to a cluster of waterfront resorts that make some of the best places to stay in Key West for tourists.
It's also a convenient location, with plenty of shopping malls and grocery stores, and is within easy reach of Key West airport for those flying into Florida.
Hotels:
BEST PLACE TO STAY IN KEY WEST ON THE BEACH: 11 TOP PICKS
We've listed the top ten places to stay in Key West – and have even squeezed in one extra option besides. From the Key West Marriott beachside hotel in New Town or romantic places to stay in Key West, here are the finest accommodations the island has to offer.
Best for: Fans of character, charm, culture and coast
Location: Quiet side of Old Town
Pros: Operated by the Waldorf Astoria brand, Casa Marina is a refined, colonial style property that's something of a local landmark, and is also listed on the National Register of Historic Places.
If you're wondering where to stay in Key West on the beach this would have to be one of the top options, as it's positioned right on an idyllic sweep of soft sand, complete with swaying palm trees a-plenty. This beautifully groomed beach is exclusively for guests' use.
Despite the sense of getting away from it all, Casa Marina is located on the edge of the Old Town, thus giving guests convenient access to all the attractions and amenities this area offers.
Cons: If you're seeking Key West hotels that are cheap, then this luxury resort is not the one for you, as room rates reflect the level or service and facilities to be found here. A daily resort fee is also chargeable.
Amenities: Casa Marina has over 300 rooms and suites, all of which feature modern decor, high speed Wifi, flatscreen TVs, iPod docks, Nespresso machines and mini refrigerators.
From a 'Toes in the Sand' private dining experience to the Sun Sun Bar and Grill, Flagler's Cafe, HMF Sidecar and Flagler's Ballroom, there are some appealing dining and drinking options at Casa Marina.
There is also the sumptuous Spa al Maré, while thrill seekers can arrange various action packed or more tranquil experiences via hotel staff.
As well as the impressive range of amenities offered at Casa Marina, guests may also access those of The Reach, a sister resort owned by the Hilton group that can be reached via a short walk. (You can read more about this further down the page.)
Check Prices and Availability on Hotels.com Here or Agoda Here.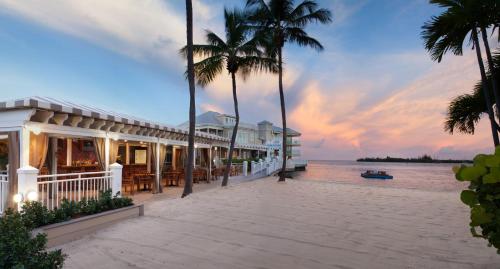 Best for: Couples seeking romance and nightlife
Location: Lively side of Old Town/Seaport
Pros: Among the leading Key West romantic resorts, Pier House offers an exclusive and secluded atmosphere, yet is close to all that the buzzing Seaport district has to offer. Located on Duval Street, it's at the center of the action.
With an acclaimed spa, delicious dining options and a white sand beach open only to guests, Pier House occupies a sunny spot overlooking warm, tropical waters. It's a fabulous place to watch the sunset over the Gulf of Mexico.
Cons: This is perhaps not among the best hotels in Key West for those seeking peace, as the area tends to come alive by night. Neither is this a cheap stay in Key West, as this upmarket option is aimed at young professional couples seeking a stylish retreat.
Amenities: Pier House's range of comfortable rooms and suites come equipped with rainfall showers, local artworks, pillow-top beds and custom-made furnishings, and are decorated in a relaxing coastal style.
From fine dining at One Duval to colourful cocktails at the Beach or Chart Room bars, there are some impressive options on site. This property is also close to all the eateries and nightlife of the Duval Street area.
The contemporary style spa is an oasis of calm and wellbeing among all the action, and is one of Pier House's main highlights.
Check Prices and Availability on Hotels.com or Agoda Here.
Best for: A laid-back break in an exclusive tropical setting
Location: Sunset Key
Pros: Under private ownership, Sunset Key is for many the perfect island getaway. The luxurious cottages are supremely comfortable, and people staying all over the Keys often head to Latitudes restaurant for lunch or dinner.
If you want to kick back and relax between spending time on the beach, lazing by the pool, playing in the ocean and being thoroughly spoiled at the spa, then Sunset Key cottages could be the perfect choice for your Key West vacation.
Cons: While ideal for a Key West romantic getaway, this resort is not the place for a Key West cheap stay. Your options while here are also limited, and if you want to venture beyond the pool bar, restaurant, beach and spa you will need to travel by boat.
Amenities: Accommodation at the resort ranges from one bedroom options to four bedroom oceanfront cottages. Decorated in a tropical coastal style, each of the 40 offers every home comfort and luxury a couple or family could ever need. The largest even have plunge pools and a private beach area.
The resort boasts a broad white sandy beach, a pool bar and of course the award-winning Latitudes restaurant on the seafront. There is also a tropical style pool plus two whirlpools, a couple of tennis courts and a 24 hour launch service taking guests to Key West.
Check Prices and Availability Here.
Best for: A luxury resort in a convenient coastal location
Location: Quiet side of Old Town
Pros: Part of Hilton's Curio Collection, The Reach is Casa Marina's sister property, and guests staying at either can use the facilities of both. A short stroll will take you between the two.
The Reach is also in a convenient yet peaceful location, so you can enjoy a restful break by the ocean while remaining close to all the amenities of Key West Old Town.
Cons: Again this level of luxury and exclusivity comes at a price. Unlike Casa Marina, The Reach is housed in a modern building – rather than a historic one with a more local feel.
Amenities: The Reach has a good range of rooms and suites to choose from, some of which have those desirable ocean views. All are decorated in a contemporary nautical style and are equipped with Keurig coffee machines, a mini fridge, blackout curtains and a work desk. Each also has a private balcony.
Guests enjoy access to a private beach as well as the pool, and there is also a spa on site. Other experiences can be booked at the resort, including diving, sailing, fishing and jet ski trips.
Check Prices and Availability on Hotels.com Here or Agoda Here.
Best for: Seafaring souls who love sundowners with a view
Location: Lively side of Old Town/Seaport
Pros: If the sailing life is for you, then the Galleon resort could be the one for you. With its own 90 slip marina, it can accommodate vessels up to 150 feet in length.
Scenic views over the coastline and Gulf of Mexico can be enjoyed from this comfortable and ultra clean property, which has a unique 360 degree observation deck. There is also a small private beach and a lively tiki bar.
Cons: The Galleon resort is not as luxurious as some of the best places to stay in Key West, Florida. Decor is by comparison a little more dated, and the more affordable price means that the range of amenities is also more limited.
Amenities: A good range of rooms, suites and apartments is offered at the Galleon Resort. Some have views over the marina; these are particularly spectacular from the upper floor units and penthouses. All come with free WiFi and at least a small fridge, microwave and coffee maker. Larger options have a full kitchen and balcony.
A sizeable waterfront swimming pool is one of the main attractions at the Galleon. There is also a sauna, sunset tiki bar and the Pirate's Cove restaurant, and activities like diving, snorkeling, fishing and boating can be arranged via the resort.
Check Prices and Availability on Tripadvisor Here or Agoda Here.
Best for: A relaxed family vacation close to all the action
Location: Quiet side of Old Town
Pros: Dewey and La Mer houses are located at the Southernmost Beach Resort, and for many this popular spot is the best place to stay in Key West, Florida on the beach. It's an idyllic, palm-lined stretch of sand.
Positioned on the quieter side of the Old Town, the resort offers easy access to the nightlife, historic and cultural attractions and range of dining options available in the central area.
Cons: The beach here is public, so unlike some of the other hotels in Key West, Florida, it is open to everyone, rather than just guests. There is a private pier, however, for soaking up the sun.
Amenities: There is a selection of room types available at La Mer and Dewey houses. Some have partial or full ocean views, and color schemes range from soft coastal blues to bright tropical hues. Even the smallest 'cozy Queen' rooms come with pillow-top beds, blackout drapes, bathrobes, cable TV and a mini fridge.
The resort offers three heated pools, a sunny pier, direct access to South Beach, cabana hire and a spacious seafront lawn. The Shores and Pineapple bars and the Southernmost Beach Cafe keep guests fed and watered, serving up a delicious menu based on Caribbean-Asian fusion food.
Check Prices and Availability on Hotels.com Here or Agoda Here.
Best for: A tropical style stay for couples and families
Location: New Town (near airport)
Pros: Close to Smathers Beach – one of the area's finest beaches – Margaritaville Beach House, formerly Barbary Beach House, Key West is also located conveniently close to the airport as well as the amenities of the New Town area.
This elegant resort offers everything you need on site, and staff can also book tours and activities for those who want to venture further. For those flying into the Keys, the airport is just over half a mile distant and the hotel offers a shuttle service (at an extra charge).
Cons: Margaritaville Beach House is around a mile-and-a-half from Key West's Old Town. While popular Smathers Beach is just moments away on foot, there is no private beach at the resort.
Amenities: The resort is clustered around a pretty, palm-fringed outdoor pool, while Drifter's Cove restaurant is a lovely, light-filled space specialising in seafood and other local produce. Afterwards, guests can retire to Shipwrecker's Bar for drinks, which also offers more casual dining.
Margaritaville Beach House also has a fitness center and can arrange activities such as stand up paddle boarding, sailing and other water sports. Seasonal events are also held throughout the year.
From guest rooms to one and two bedroom suites, Margaritaville Beach House offers a range of bright rooms that are flooded with natural light. Even entry-level accommodations come with King beds, a wet bar with mini fridge and microwave and flatscreen TVs.
Check Prices and Availability on Hotels.com Here or Agoda Here.
Best for: Stylish rooms with balconies in the heart of town
Location: Lively side of Old Town/Seaport
Pros: The Hyatt Centric Key West Resort and Spa is close to Duval Street and all the attractions of the Old Town. There is a boat dock at the property as well as a luxurious spa, and the resort is close to the beach.
All rooms come with attached balconies, giving each guest direct access to their own outdoor space. It's one of Key West best places to stay if you want access to town center amenities and attractions.
Cons: The Hyatt Centric Key West doesn't have a beach as such; rather just a small spot from which to enter the water. Simonton Beach is close by, however. Being on the livelier side of the Old Town, it's also not the quietest resort, and rooms come with fans rather than full air conditioning.
Amenities: A choice of room styles at the Hyatt Centric means there's something here for everyone – from standard Kings or double Queens to a deluxe seaview suite. Every room comes complete with a private balcony.
There are two dining options to pick between here. Blue Mojito Bar and Grill offers casual meals and colourful cocktails with Gulf views, while SHOR American Seafood Grill showcases the fresh flavours of locally caught fish and seafood – as well as serving up a superb Key lime pie for dessert.
Jala spa offers a range of beauty treatments and invigorating or relating rituals, and there is also a hot tub, pool and gym at the resort.
Check Prices and Availability on Hotels.com Here or Agoda Here.
Best for: A comfortable stay in a colonial, veranda-decked building
Location: Quiet side of Old Town
Pros: This is best places to stay in Key West on the beach, especially if you want to be based on the more serene side of the Old Town.
The old colonial style building also exudes charm and character – not least because of the spacious verandas that surround rooms on all floors.
Cons: Though it's beautiful, the beach here is pretty tiny and thus space can be limited. The tropical style decor also looks a little more tired than that found at other places to stay in Key West, FL.
Amenities: From more compact studios to large ocean view suites, accommodations at Coconut Beach Resort come with King or Queen beds, microwave and a small fridge. The bigger options have separate living areas, kitchens and entertainment centers.
Louie's Backyard bar and restaurant can be found right next to the resort, and the dining and drinking options of the Duval Street area are also within easy reach. There is a pool with sundeck and loungers, plus a hot tub at the resort.
Check Prices and Availability on Tripadvisor HERE or Agoda Here.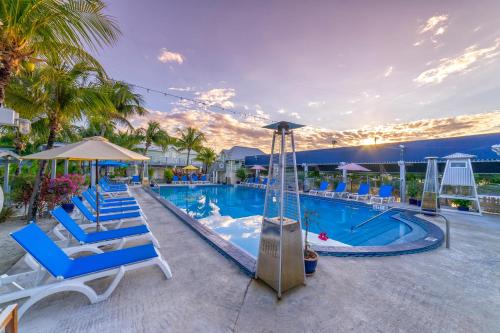 Best for: Quirky 50s hotel with hammocks and unique features
Location: New Town (near airport)
Pros: Dating from the mid 1950s, Ibis Bay is one of Key West's original resorts. If you're wondering where to stay in Key West that's a little different, this could be the top pick for you.
This laid-back, arty place with a Cuban vibe welcomes couples, groups, solo travelers and families alike, and is conveniently positioned for Key West airport.
The local wildlife and dedicated 'Fun Desk' will delight the kids, while adults will love to laze in the hammocks found through the grounds. Staff even hand out sarongs for guests to wear!
Cons: Though you can enjoy sea views and breezes from Ibis Bay, direct entry to the water is limited. Accommodations are not as luxurious here as at the more expensive and exclusive resorts.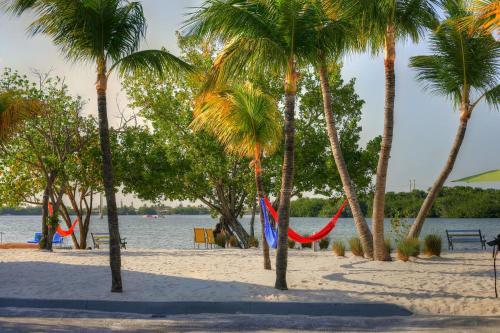 Amenities: Ibis Bay has an outdoor pool set among glorious tropical gardens and palm trees, and there are hammocks as well as sun loungers provided for guests' use.
The on site, dockside Stoned Crab restaurant is one of the island's favorite eateries, serving up the freshest seafood and colorful, organic cocktails.
Rooms are bright and styled along tropical lines, featuring Cuban art, mini fridge, premium linens and flatscreen TV. Some have private decks, complete with swaying double hammock. As you might expect, no two rooms found here are the same.
Check Prices and Availability on Hotels.com Here or Agoda Here.
Best for: A failsafe pick from a big hospitality brand
Location: New Town (near airport)
Pros: Located in the New Town area, Key West Marriott beachside comprises a cluster of peachy-toned buildings centred on the outdoor oceanfront pool.
Guests staying at the seven acre site can do as little or as much as they like – from thrill-filled water sports to lazy days by the pool or on the sands.
Cons: Although there is a beach, it is small in size and also located next to the bridge. Of all the best places in Key West covered here, this is also the furthest from the Old Town. Room decor is also a little more traditional in style.
Amenities: This popular pick among places to stay in Key West on the water has a choice of room categories, most of which have balconies. All are spacious, with cosy King beds and high speed WiFi.
The resort's pair of eateries are Tavern 'n' Town and Chicken Walk. The former serves steaks, grills and fine dining options, while the latter is a casual poolside spot offering snacks, drinks and light meals.
A whirlpool bath, waterfront pool and on-site gym covers fitness and relaxation, and there is also direct beach access. Jet ski trips, bike hire and kayak rental can also be arranged on site.
Check Prices and Availability from Marriott Here or Agoda Here.
WHICH IS YOUR BEST PLACE TO STAY IN KEY WEST ON THE BEACH?
If you've been wondering about visiting Key West, where to stay is one of the first considerations. We hope this guide has helped you narrow down the options, whether you want the best place to stay in Key West for families, couples, groups or as a solo traveler.
From cheap places to stay in Key West to the most romantic hotels in Key West, there's a property on this beautiful Floridian island for everyone!
Hi!  We're Kristin & Andrew, lovers of everything tropical.  We spend as much time as possible searching for the best beaches, snorkeling, hiking, and fun in the sun!