Guide To The Best Places To Stay In Aruba
This page may contain compensated links. For more information read our disclaimer here.
by Kristin Young | Updated On: January 4, 2022 | Aruba
If you are on the hunt for the best places to stay in Aruba, then you've landed on the right page. Aruba is a well-known Caribbean Island that sits off the Venezuelan coast. It's a go to holiday destination for beach bums looking for their own slice of paradise. 
Aruba has eye-catching desert-like landscapes with beautiful beaches that make it a popular holiday location if you're looking to unwind. It has high-end resorts and stylish cruise ships, which add to its overall picturesque beauty. In fact, the crystal-clear waters off the Aruban coast are some of the most swoon-worthy locations you'll ever come across.
Lose yourself in the deep-sea waters and enter a whole new world whilst you relax in the best Aruba resorts. You will witness the most vibrant marine life in the Caribbean Sea thanks to the amazing snorkeling and swimming opportunities. Aruba happens to be a favorite destination for honeymoon couples, travel enthusiasts, and luxury travelers. With so many options of great Aruba places to stay, it can be quite overwhelming trying to pick your accommodation. 
If you're considering future trips to Aruba, and are worried about where to stay in Aruba look no further! You will find the best resorts in Aruba in this guide matching your budget and requirements.
Don't have time for the whole guide and just want to know our picks? If you're looking for the closest option to the best snorkeling & beaches, this 2 bed 2 bath vacation rental close to Boca Catalina is hard to beat. The Overwater Bungalows at Aruba Ocean Villas are also great for those wishing to snorkel as it's near Mangel Halto snorkeling as well as Baby beach. The best hotel to stay in Aruba for a really unique experience, right on the famous Flamingo Beach, is the  Renaissance Aruba Resort & Casino. It's an absolute must, even if it's just for one or two nights.
In this post:
WHERE TO STAY IN ARUBA
Click on each of the spots on the map of Aruba hotels for more details on each then read below for more.
When it comes to looking for the best area to stay in Aruba, you are spoilt for choice with so many scenic locations to choose from. Oranjestad is the capital and the largest city of Aruba, located on the southern coast near the western end of the island country. Then comes Palm Beach, which is located along the northwest coast, and finally Arashi and Eagle beach, located on the northern and northwest coasts, respectively. If you are trying to narrow down your choices when figuring out the best location to stay in Aruba, it will ultimately depend on your preferences and budget.  
Oranjestad
If it's your first time visiting Aruba and you want to explore more than just sandy dunes, then Oranjestad is one of the best areas to stay in Aruba. It isn't a metropolis but is the only city in Aruba and even the capital, so you'll find a thriving combination of the Caribbean and Dutch culture and a large variety of shops and restaurants to explore.
This place is even ideal for backpackers searching for budget-friendly accommodation where you'll find a few hostels and apartment rentals at a decent price. You can visit the waterfront area downtown and the beaches are just a quick cab ride away. 
Palm Beach
Situated near the northwest coast, Palm Beach happens to be quite popular for first-time tourists, honeymooners, and families. This is one place where you'll find plenty of Aruba's high-rise plush hotels, thrilling casinos, kid-friendly beaches, and infamous bars and nightclubs.
Apart from the feel-good vibe of this locale, you will also find Aruba's best food here. Ranging from the traditional Caribbean cuisine to American, and Dutch, this community is where you can drink, binge, and taste some of the most delicious food. So, enjoy some amazing views, tasty food, and make memorable moments that you'll never want to forget.
Eagle Beach
Eagle Beach boasts white sandy beaches, teal-blue waters, and a chilled-out vibe. It is repeatedly rated as one of the best beaches in the world and a top beach in the Caribbean Islands time and again. The beach comprises a long stretch of soft white sand that contrasts just right with the breathtaking teal-blue water. 
This beach is a favorite amongst locals and budget travelers looking for a pocket-friendly vacation. Here you will find scenic piers, groovy beach shacks, quirky places to eat, and low-rise hotels. And since this beach is centered between two high-rise communities. If you're confused about where to stay in Aruba there is an extensive range of accommodation to choose from at Eagle beach.
Arashi Beach
If you prefer quiet and privacy is what you're looking for, then Arashi Beach is where you should be. Here you can enjoy all the perks of blue waters without the hustle & bustle of the crowds. Dig your toes in the sand or suck up some sunshine on this peaceful beach. This beach is sought-after as one of Aruba's top destinations for water babies. Just off the shores of this beautiful Caribbean Beach and you will find yourself lost in a world of wonder below the surface.
So, if stunning coral reefs, tropical fish, and interesting historical sites are on your bucket list, then we absolutely recommend this to anyone. Also, if you're on your honeymoon and want to be alone this is the best place to stay in Aruba for couples. 
COMPARISON CHART OF BEST ARUBA RESORTS & HOTELS
BEST ARUBA HOTELS
The best Aruba hotels will offer you world-class luxury with a mix of spectacular views, delicious food, and plenty of recreational activities to ensure you have a memorable vacation. Whether you're looking for the best hotels for an offbeat traveler, a pair of two, or the best hotels in Aruba for families, the range of choices on this island will give you plenty of flexibility. And with a beach almost right around the corner, what more can you really ask for?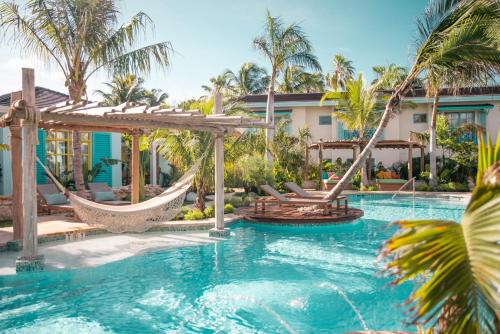 Best for: Couples and families
Pros: For those who are in search of an intimate boutique experience in Aruba, the Boardwalk Hotel is a commendable choice. It has bold turquoise walls, impressive interiors comprising scattered books, and various land accents that give it a casual and beachy vibe. It is ideal for those that have a quirky taste in interiors and are fascinated by an intimate garden setting on a former coconut plantation. 
Cons: Outdoor pool is small and may feel a bit cramped. The hotel also lacks a restaurant within its premises. 
Amenities: This hotel has 14 spacious one- or two-bedroom casitas with a living-dining area and a modern, fully equipped kitchen with cookware and dishware provided. Additionally, this hotel also offers a beach area with complimentary access to beach huts and lounge chairs, whilst also offering beach towels and other complimentary items. The standard features include air-conditioning, free Wi-Fi, and other electronic items on request. There's also a 24-hour fitness center including a tennis court, jacuzzi, and spa. 
Check Prices and Availability on Hotels.com Here or Agoda Here.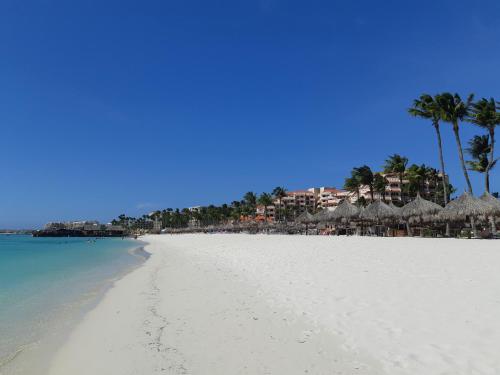 Best for: Vacationing couples, honeymooners
Pros: Wonders is a small-scale boutique hotel with a serene location and is within walking distance to the bustling downtown Oranjestad. This hotel is an adults-only haven for those who love relaxing in a casual yet luxurious environment. It welcomes guests who are looking for peace, tranquility, and a no-hassle vacation. The hotel offers upbeat and friendly vibes with a nice pool surrounded by an attractive garden. They also have free Wi-Fi throughout as well as free self-parking.
Cons: The beach is a 10-minute drive away which might be a hassle if you don't have a car. There is no restaurant on-site for other meals. 
Amenities: The hotel has a swimming pool and provides airport shuttles, room service, swim-up bar, non-smoking rooms, cabanas, laundry, balcony/patio/terrace.
Check Prices and Availability on Hotels.com Here or Agoda Here.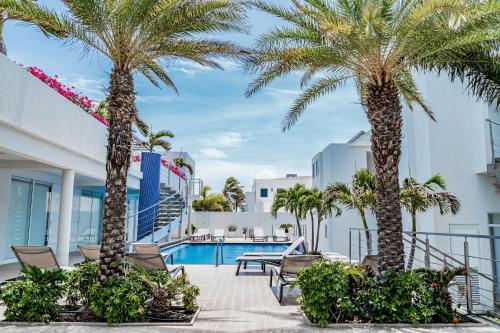 Best for: Luxury couples, honeymooners, and families 
Pros: The OceanZ is located at a five-minute drive north of the island's high-rise district on Palm Beach. It is filled with foot traffic, casinos, clubs, and shops. The OceanZ Boutique is individually owned and decorated with an intrinsic European vibe. The interiors justify the indoor spaces with outdoor beauty. The 13-room boutique hotel has serene rooms that are individually decorated with semi-private infinity pools that have ocean views. This hotel is perfect for travelers who want a social scene at the beach.
Cons: The hotel is across the street from the ocean, but the nearest beach is still a five-minute walk. There are no ocean views from the pool. 
Amenities: The hotel features a chic swimming pool, free internet, free parking, a small boutique that sells swimwear and souvenirs, a business center, concierge, meeting/conference rooms, and airport transfers. 
Check Prices and Availability on Hotels.com Here or Agoda Here.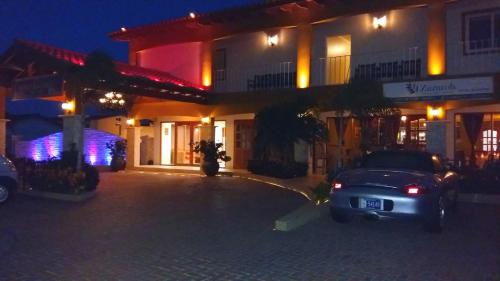 Best for: Budget travelers, families, couples, groups of friends looking for a pocket-friendly getaway.
Pros: Set in Oranjestad, this 10-room property is an ideal base for visits to the large Manchebo Beach. It is located within 11 minutes walk of Alhambra Casino and boasts a community pool, an outdoor swimming pool, and major entertainment activities. The hotel is a 20 minutes' walk from the Butterfly Farm Museum and a few minutes drive from Occidental Grand Casino. Overall, a funky property to stay on.
Cons: Although it has a fun vibe, it still lacks a luxurious feel.
Amenities: Family rooms, non-smoking rooms, free Wi-Fi, free parking, restaurant, kitchenette, air conditioner, walk-in shower.
Check Prices and Availability on Hotels.com Here or Agoda Here.
BEST RESORTS IN ARUBA
Aruba has the signature "One Happy Island" for a reason. This country has summer-friendly weather all year round, mesmerizing sunsets, enticing flora and fauna, and white sandy beaches surrounded by the turquoise blue waters of the Caribbean Sea. You can visit Aruba for a chilled-out getaway that guarantees good weather. And to help you find the best resort in Aruba we've compiled this list to ensure you have a perfect vacation. 
Best for: Group of friends, business travelers, couples, and families
Pros: Sitting atop a mall in downtown Oranjestad, the Renaissance Wind Creek Aruba Resort is a fusion of two hotels in one: Renaissance Marina Hotel and Renaissance Ocean Suites. The former is adults-only, but both offer all that you need from multiple dining options to multiple pools, individual family and adult-only beaches, a fitness center, casino, and much more. The resort is spectacular, but most people flock here for exclusive access to Aruba's famous Flamingo Beach where you'll find flocks of flamingos roaming freely on velvety-white sandy beaches. The hotel guests always receive complimentary transportation and free access to the island of their choice.
Cons: It's really hard to find anything – some people may be put off by the price but many choose to stay just a couple of nights for access to Flamingo Beach.
Amenities: 3 outdoor pools, bars, restaurants, meeting rooms, fitness center, facilities for disabled guests, non-smoking rooms, room service, and exclusive access to Flamingo Beach.
Check Prices and Availability from Marriott Here or Agoda Here.
Best for: Couples, families, solo, and business travelers
Pros: This hotel has everything, right from studio to three-bedroom suites painted with bright yellow walls and teal accents with breathtaking views of the Caribbean Ocean. The resort is pleasant, relaxing, and brings along an array of modern privileges that make it a better prospect for diverse types of travel groups. The facilities include two freshwater pools, a separate kids' pool, gymnasium, spa, tennis, and basketball courts. Moreover, the guests here also get access to three other Divi accommodations in Aruba and their amenities, such as Divi Village Golf and Beach Resort, which is four kilometers away.
Cons: The hotel beach here gets crowded, so you'll have to show up early to grab the first-come, first-serve lounge chairs.
Amenities: Restaurants, bars, golf, BBQ facilities, spa, meeting, and event rooms, 24-hour fitness center, outdoor pools.
Check Prices and Availability on Hotels.com Here or Agoda Here.
Best for: Senior adults and business travelers
Pros: The Aruba Marriott Resort has spacious, moderate, and luxurious accommodation, with the largest hotel balconies you will find in Aruba. The rooms and suites here are playful and quite relaxing with silky white linens, posh interiors that display wood furnishings, aquamarine walls, and sandy carpeting. Over here, you can make your stay more exclusive by booking a room on the Tradewinds Club floor, that offers amenities like a private concierge, an exclusive lounge with complimentary food and drinks, personal valet, a reserved beach spot, and unlimited drinks. You can pamper yourself at Mandara Spa, take part in a range of exciting water sports, or stop at the gym, casino, or salon.  
Cons: Although the resort is stylish, it still feels more of a business hotel, which may not have the desired vibe for pleasure travelers.
Amenities: Outdoor pools, tennis courts, bars, spa, restaurants, salon, meeting rooms, fitness center
Check Prices and Availability from Marriott or Agoda Here.
Best for: Couples/honeymooners, business travelers, friend groups, families
Pros: The Hilton Aruba sits right in the middle of the well-liked Palm Beach on a sprawling area of 15-acres. There are a variety of activities here in addition to the island's high-rise hotels, restaurants, and shops. The resort has the best location on the desirable Palm beach and gives the best sunset views from its furnished balconies or patios. The rooms and suites are plush and well-designed as expected from a typical Hilton property. The bathrooms are enormous and have a walk-in rainfall shower; plus, all the rooms are equipped with private balconies that give amazing views of a bright tropical garden, large pool, or the ocean.  
Cons: This resort is a bit on the pricier end and is only for those who prefer a luxurious stay.
Amenities: There's access to outdoor pools, bars, casinos, tennis courts, kids club, meeting rooms, casinos, and gym.
Click Here to Check the Latest Prices and Availability.
Best for: Families, couples, and large groups of friends
Pros: The resort is located five minutes away on foot to the stunning Eagle Beach, and is easily accessible off either of the island's main roads. The area boasts good restaurants, bars, and casinos. The vicinity also has a local supermarket and home goods store with a café inside and ATMs across the street. The 362 spacious rooms have had a significant renovation, with a few rooms refurbished with paint, bedding, and flat-screen TVs. The hotel's waterfall pools, casino, small spa, tennis courts, and restaurants are excellent. 
Cons: The resort is more expensive than some of the other options mentioned mainly due to its close proximity to the beach.
Amenities: Concierge, room service, spa, tennis court, free Wi-Fi, casino, poolside drink service, supervised kids' activities, jacuzzi, babysitting services, airport transfers, laundry, room service
Check Prices and Availability on Hotels.com Here or Agoda Here.
ARUBA VILLAS & CONDOS
Vacationing in a villa or condominium gives you a bit more elbow room and convenience while traveling with friends and family. Two of the most popular places to find a condo are on Airbnb or the primary accommodation site. As they say, there's nothing better than a home away from home while you're on the go – be it solo, with a partner, kids, or friends. Plus, staying in hotel rooms or resorts can feel too confined if it's for a longer duration. So, here are two of the villa rentals available in Aruba for your next fun staycation.
Best for: Couples, adults, luxury travelers, nature lovers, wanderlusts
Pros: Aruba Ocean Villas is the whole and sole hotel in Aruba with overwater villas and exquisite beach bungalows. This accommodation caters exclusively to adults only which makes this boutique hotel ideal for your engagement, honeymoon, anniversary, or romantic escape. The nine unique villas here are more than just hotel rooms. Every detail in the rooms – from the crisp bed linens to the breathtaking panoramic views of the Caribbean sea is tailored to make you feel both at home yet completely transported. In addition to the expansive development, these villas are environmentally friendly where you can find thatched palapas serving as primary roofs with rustic wooden flooring for a plush feel.
Cons: This accommodation caters to a crowd that likes privacy and quietness. You may want to do an early booking to avoid missing out during the on-season period.
Amenities: Free parking, free high-speed internet, snorkeling, bar/lounge, concierge, restaurant, hot bath, breakfast in the room, couples massage, taxi service, non-smoking rooms, wake-up service, private beach 
Click Here to Check the Latest Prices and Availability.
Best for: Couples, honeymooners, adults, group of friends, travel groups
Pros: The Boca Catalina Villa is in the "Beverly Hills" of Aruba. This refurbished property is across the street from what most of them would consider as one of the best beaches in the world. It is steps away from Aruba's best snorkeling area, and Arashi Beach is a walking distance as well. The property has 4 units that have completely independent entrances. The garden serves as a relaxation haven with beautiful flora and a relaxed pool area. The backyard area has a pool and a hammock that adds to the property's picturesque landscape. 
Cons: It's located across the street from the beach, so access to the water isn't quite as easy as a property directly on the beach.
Amenities: Outdoor shower, TV, dedicated workspace, kitchen, free Wi-Fi, private entrance, beach access, shared patio or balcony, hammock, BBQ grill: gas, outdoor furniture, free parking on premises, free street parking, long-term stays allowed.
Check Prices and Availability on HERE.
HOTELS NEAR ARUBA AIRPORT
Although nowhere is too far from the airport, there are still few travelers who prefer a stay that is in close proximity to the city as well as the airport for better convenience. And so, while Oranjestad is oozing with lush properties at its disposal, this option, however, is literally on the doorstep of the airport.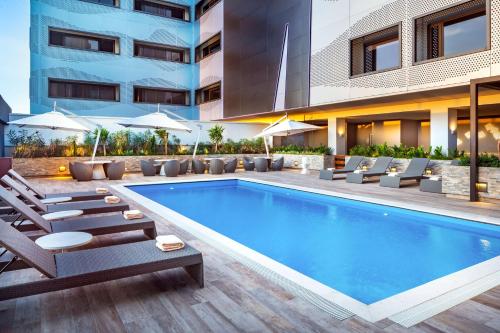 Best for: Solo or business travelers, or those who just need a place to hit the sack. 
Pros: The Hyatt Place hotel made it to our list because of its proximity to the airport and Arikok National Park, and more so, it is the only hotel from a trusted brand in that vicinity. And this hotel is literally an 11-minute drive from the park's San Feugo entrance. So, if you have an early flight to catch, you have nothing to worry about as the Hyatt is on-site at the Queen Beatrix International Airport. In true Hyatt essence, the rooms here are spacious, comfortable, and spick-n-span. Every room has neat interiors that comprise teal, blue, and a neutral color palette with large-sized beds, a flat-screen TV, a work desk with an ergonomic chair, and large bathrooms with walk-in glass showers. 
Cons: Since this is a basic airport hotel, the rooms are standard and have limited amenities. 
Amenities: Restaurant, bar, outdoor pool, meeting, and conference rooms, gymnasium
Check Prices and Availability on Hotels.com Here or Agoda Here.
OVERALL
Popular amongst the Caribbean Islands for its bountiful sunshine and breathtaking beaches, Aruba is just what your soul has been whispering to you all this while: Vitamin Sea. With so many attractive spots to choose from, there is something for everyone! There won't be any time to get bored because the island thrives with touristy spots and places to stay, so hopping around from one place to another won't be such a hassle. Aruba is a popular Caribbean vacation spot given the ease of access from the United States, so make it a point to book your preferred stay well in advance. The ideal time to visit Aruba is from April to August – a huge window of time when the island's exuberant prices take a backseat. The peak season, however, is from January to March when temperatures are as high as 30°C, so you can expect the room prices to soar and for the island to be filled with a lot of hustle-bustle.
Hi!  We're Kristin & Andrew, lovers of everything tropical.  We spend as much time as possible searching for the best beaches, snorkeling, hiking, and fun in the sun!