Best Places to Stay in Belize
This page may contain compensated links. For more information read our disclaimer here.
Located just off the second largest reef in the world, Belize should be at the top of any snorkel lover's bucket list. And, finding the best places to stay in Belize is one of the most important parts of a successful trip. So, we've found all the best places in prime locations to help make your planning easier.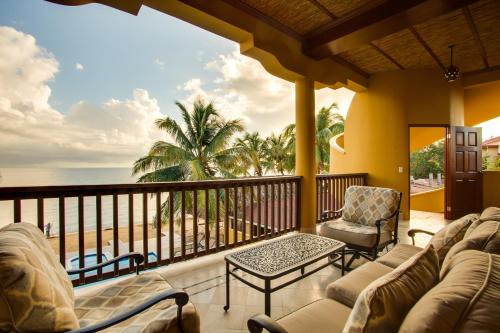 Located at Jaguar Reef, Hopkins, this collection of villas is ideal for people who love water sports and outdoor activities. With nearby options for bike tours, cooking classes, themed dinners, the happy hour, and live musical performances there's plenty to keep you entertained off the water as well. These villas are perfect for families or groups who like a villa experience with nearby resort amenities.  
Check prices and availability here.
If you have an addiction for outdoor activities, such as fishing, snorkeling, diving, biking, horse riding, etc., this is just the place for you. Located at Placencia Peninsula, it is very close to the Garifuna village. Belize International Airport is just three hours away. Along with all modern amenities, the place offers both local and international cuisines for breakfast, lunch, and dinner. You may enjoy your meals and drinks, while gazing out to sea from the sandy beaches. While you are there, do not forget to explore Mayan archaeological sites and caves. Even the wildlife is fascinating.
Check prices and availability here.
These chic-looking villas are located at Ambergris Caye and offer amazing views of the sea and beach. Each villa is equipped with all the modern comforts that should help you have a relaxed vacation. The lush tropical gardens are as appealing to the eye as the menus are to even the fussiest of palates! You can even hire a private chef to cook up an extra special local dinner. The resort offers kayaks and bicycles free of charge for exploring the reefs, rocks and the island.
Check prices and availability here.
How would you like to find yourself surrounded by the sea on all sides? If yes, then you should make your way from Palencia to King Lewey's Island Resort in the Caribbean. Your accommodation will be a cabana, equipped with a verandah and a private bathroom. The finest of restaurants and bars provide appetizing food and drinks throughout the day. Spa services are also available. As for leisure-time activities, there's sea kayaking, scuba diving, snorkeling, deep-sea fishing, or fly-fishing available.
Check prices and availability here.
With pride of place on North Maya Beach, the resort has comfortable apartments and suites to offer its guests. Common facilities include a well-equipped spa, a wellness center, a tennis court, an outdoor swimming pool, a private beach area, and a restaurant. Located right on the ocean, there's more than enough water activities to enjoy.
Hi!  We're Kristin & Andrew, lovers of everything tropical.  We spend as much time as possible searching for the best beaches, snorkeling, hiking, and fun in the sun!