Best Places to Stay in St. Thomas, USVI
This page may contain compensated links. For more information read our disclaimer here.
by Kristin Young | Updated On: January 11, 2022 | St. Thomas
Traveling to the Virgin Islands and wanting to find the best places to stay in St Thomas? You've come to the right place. Not only is St. Thomas the gateway island to the U.S. Virgin Islands, but it's also lush, mountainous, and full of fantastic snorkeling and beautiful beaches.
In This Post:
St Thomas truly captures the essence of the Caribbean and is the perfect place to completely unwind for a relaxing vacation. Sunshine, good food and drinks add to the island vibe!
With plenty of flights into St. Thomas it's the perfect hub for exploring the Virgin Islands. Spend the entire week here, or use it as a jumping off point for ferry or boat trips to the other islands.
Tourists can be seen lounging around the east side beaches and snorkeling in the clear waters, as most of the best beaches, beach hotels, and resorts are on this side of the island. However, the west side offers a few local beaches that are great for surfing, and also has some interesting hiking to places like mermaid's chair.
Don't have time for the whole guide and just want to know our picks???
Secret Harbour Beach Resort and Sapphire Bay Beach Resort are in a close tie for the best places in St. Thomas to stay when we want the independence of having a condo and fantastic snorkeling at our doorstep. Secret Harbor wins out by a bit for better snorkeling, but Sapphire Bay has a nicer beach and view.
When we want a couples getaway with all the amenities, The Ritz-Carlton has everything. We also love The Moorings catamaran charter option for a unique and bucketlist worthy vacation!
No matter your budget, you can find the perfect St. Thomas lodging in our guide. The best places to stay in St Thomas are all about relaxation and fun.
WHERE TO STAY IN ST. THOMAS
Click on the St. Thomas travel map to find all of our top picks for places to stay, beaches, places to eat, where to snorkel, and things to do!
There are 2 main towns in St. Thomas, Charlotte Amalie on the South side, and Red Hook on the East End. There are also several cliffside villa accommodation options on the North end of the island, but the West side is mostly residential without much for rentals or sights. So, when you're trying to figure out the best side of St. Thomas to stay, it really depends on what you're looking for.
Red Hook and the East End
The area around Red Hook is the best part of St. Thomas to stay in because of the proximity to tours, the best beaches, nightlife and restaurants. Our 3 top picks for where to stay are all just outside of Red Hook.
The east end near Red Hook, with more of the popular beaches is the ideal place to be centrally located to all of the best snorkeling on the island. The ferry to St. John runs from Red Hook, and many boat charters do as well. The town of Red Hook itself is just a few blocks of shops, restaurants, and marina access, so there aren't any places to stay within walking distance and cars or cabs will be required.
The East End is home to the majority of the phenomenal beaches such as Lindquist Beach, Sapphire Beach, Great Bay, and Secret Harbor Beach, which are all within a 10 minute drive from each other. This is our top pick for the best area to stay in St. Thomas for beach bums and snorkel lovers.
Charlotte Amalie and the South End
Charlotte Amalie is the capital of the US Virgin Islands, the economic center, and the location of the airport and cruise dock. For people who love to shop or want to stay near the airport, this side of the island will provide a livelier atmosphere, especially on days when ships are in port. If you're wondering what is the best area to stay in St. Thomas within walking distance to shopping and restaurants, Olga's Fancy or Windward Passage are probably the best choices for you.
With tourist sights like 99 Steps, Blackbeard's Castle, and the SkyRide to Paradise Point, the South End of St. Thomas is a great location for people who want a mix of beach and non-beach activities.
North End
The north side of St. Thomas, is home to the world famous Magen's Bay. If you've gotten this far on your St. Thomas research, I'm sure you've already heard about it. And yes, it's absolutely gorgeous. To get the best view, make sure to stop at Drake's seat for a photo op.
The North end is all about cliff top villas with views. So, if you're less inclined to dwell on the beach, but want to relax by your pool with some of the best views on the island, the North side is just what you're looking for. There aren't really any resorts or hotels in this area, so you'll need to look to VRBO for the best home and villa rental options.
COMPARISON CHART OF BEST SAINT THOMAS RESORTS AND RENTALS
BEST RESORTS IN ST. THOMAS
St Thomas island resorts will provide a mix of relaxation, beautiful views, and plenty of options for water activities. Most of the resorts are in close proximity to many of the best beaches on the island and nearly all of them have their own private beaches as well.
Best for: Luxury couples' vacation.
Pros: The Ritz Carlton has everything you could ask for in a resort. The beautiful property is situated right on Great Bay, with a decent coral reef right in front and multiple water activities and amenities to enjoy.
Cons: This resort is definitely on the pricer side, so it may be a stretch for some financially, and they do not offer any all inclusive packages.
Amenities: This resort has 4 restaurants, a 24-hour fitness center including fitness classes, kids activities, tennis courts, facilities for snorkeling, catamarans and paddleboards, a 55-foot luxury catamaran, Infinity pool and an additional family pool with slide, and plunge pool. There are many other luxury amenities like a sea-view balcony or terrace in the rooms and suites.
Click Here to Check the Latest Prices and Availability.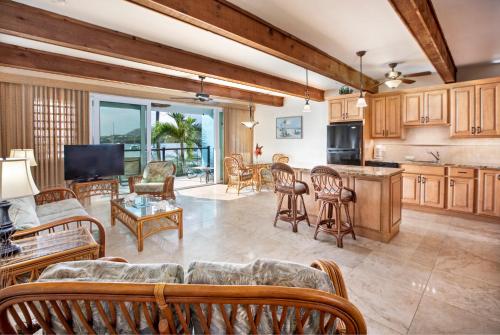 At sunset, anyone "in the know" on St. Thomas heads over to Secret Harbor to grab a drink and watch the sun set.
Best for: Families with kids, couples, snorkel lovers.
Pros: Fantastic snorkeling right at your doorstep. Upscale and friendly vibes, gorgeous beach with palm trees and clean blue water, 2 on-site restaurants (both casual and upscale cuisine), all units are beachfront and offer great views, all units have either a private patio or a balcony, good space, modern condo units which have fully equipped kitchens, Fitness center and tennis courts, PADI dive shop and convenience store. They have a Massage room and free Wi-Fi too.
Cons: No spa only massage, pool on another property, smaller beach.
Amenities: Beach, Business Center, Cabanas, Concierge, Fitness Center, Full Kitchen, Internet, Kids friendly, Meeting and Conference Rooms, Pool with poolside Drink Service, Rental Car Service Desk Onsite, Separate Bedroom / Living Room Space, Tennis Court.
Click Here to Check the Latest Prices and Availability.
Best for: families
Pros: This Marriott property is a Villa Resort, standing in a hillside overlooking the Pacquereau Bay and is in a quieter area of St. Thomas. It is family friendly with plenty of community rooms including a kids activity center and movie theater. The 2 or 3 bedroom villas are fully equipped, but if you're looking for more of an all inclusive experience, they do have packages available that include meals and drinks.
Cons: The location is not great for snorkeling, and the water can be a bit rough. It's also a bit more secluded, therefore, a further trip to other beaches and activities.
Amenities: All villas have multiple televisions, washer / dryer, soak tubs and other conveniences of a home. The fitness center and the pool along with the kitchen and high-speed internet for all villas is really a winner.
Click Here to Check the Latest Prices and Availability.
Best for: young groups and people who enjoy a livelier atmosphere
Pros: The location is great for snorkelers as it is just adjacent to Coki Beach, one of the best snorkeling beaches on St. Thomas. They offer studio, one, two, or three-bedroom suites with fully equipped kitchens including frozen drink makers, as well as tiki bars, island inspired food and a lot of Margaritas. Overall a fun property to stay on.
Cons: It is a fun resort but lacks the uber-luxury feel, and the on-site beach isn't as beautiful as many other options.
Amenities: tropical outdoor pool and hot tub, onsite beach, good restaurants and bar in the resort, and is located within walking distance to Coki Beach and Coral World Ocean Park.
Click Here to Check the Latest Prices and Availability.
Best For: families or couples who enjoy a view and proximity to sights.
Pros: Villa style cliffside rooms with fantastic views and balconies, proximity to Coki Beach and Coral World Ocean Park, 2 beaches and 3 pools to choose from, on site restaurant and water sport rentals
Cons: Not the best for people with mobility issues, as it is a cliffside property, varying updates and amenities from unit to unit
Amenities: 3 pools, private beach, nature trails, 2 on-site restaurants, grocery delivery and shuttle service available.
Click Here to Check the Latest Prices and Availability.
ST. THOMAS ALL INCLUSIVE RESORTS
If you're looking to have everything taken care of for you on your vacation to St Thomas all-inclusive resorts make life easy. However, St. Thomas currently only has one option for an all inclusive resort, although the Marriott Frenchman's Cove does offer food and drink packages, essentially making all-inclusive an option there as well.
Best for: a younger crowd or people looking for a party atmosphere
Pros: Bolongo Bay is a ton of fun with things like their famous snorkel booze hunt where they hide bottles of rum for guests to snorkel and find, or trips to snorkel nearby locations on their private 53' catamaran. The resort is budget friendly and offers a swim up bar, and plenty of water activities.
Cons: They definitely cater to a crowd who likes to party, which may be a bit too lively for some people or families. The rooms are all traditional hotel style rooms without any suite or villa options.
Amenities: sailing on their private catamaran, snorkeling, paddle boarding, and kayaking, live entertainment, poolside games, beach fitness classes, a free intro to scuba diving course, and windsurfing or sailing lessons.
Click Here for the Latest Prices and Availability.
ST. THOMAS VILLAS & CONDOS
If you would prefer condo or apartment style vacation rentals rather than a typical resort, there are many options for St Thomas Condos. Two of the most popular places to find a condo are on VRBO or Airbnb. St Thomas has many options for home, condo, and villa rentals on either of these websites, but VRBO does currently seem to have more options. A home away from home is very convenient when traveling with children too as hotel rooms can feel too confined for longer stays. Here are a few of the best independent condo and villa rentals available in St. Thomas.
Best for: Families, couples, snorkel lovers
Pros: all have balconies or patios right on the beautiful beach with good snorkeling, nice views of St. John and other islands, short distance from Red Hook's shops and restaurants, full kitchens, 2 level pool
Our tip: Book a ground floor unit with walk out access to the beach
Cons: Each condo is individually owned and managed, so there are significant differences in quality.
Amenities: all condos have kitchens and decks or patios on or overlooking the beach. beach chairs are provided and set up on request, a 2 level pool, snorkel, kayak, and many other rentals are available, fantastic snorkeling from the beach, and a beach bar on site.
Click on the links to our top picks at Sapphire Bay Resort for the latest Prices and Availability.
Since the units are all individually owned, you'll need to book them directly through VRBO.
Our preference is a ground floor unit, as they have patios with direct beach access. (The ground floor units are almost all studios, but many have a sliding partition that can divide the bedroom area from the living area)
If you'd rather have a bit more privacy, and a view, the units on the second and third floors all have balconies overlooking the beach and ocean.
Check out our favorites:
2 Bedroom Condos:
2 Story Condo in Building C
Building C 2 Story Condo
Get a bottom floor unit in Building A, B, or C for perfect walk out snorkeling.
If you like booking an independent home with a view, here are our favorite options:
Or check out all of the great North Side Villa rental options HERE.
BEST HOTELS IN ST. THOMAS
There are several St. Thomas boutique hotels to choose from, with most being near Charlotte Amalie. Something to keep in mind is that Charlotte Amalie is built into the mountainside, and therefore driving on the steep, tight roads with hairpin turns can get a bit stressful. Also, nearly all of these hotels aren't great for people with limited mobility, as there are many stairs. Since St. Thomas is relatively small, you can choose to stay at one of these great hotels, and take day trips out to all of the fantastic beaches. Here are the top 3 St Thomas hotels.
Best for: families with kids, budget travelers who enjoy a great view
Pros: Beautiful views of the harbor, 46 restaurants within 1 km radius, great amenities, pool and sun terrace to lounge in, free continental breakfast, 99 Steps (0.4 mi), and Main Street (0.5 mi) all within walking distance of the hotel, restaurant bar has harbor views and terrace seating, 16 minutes' walk from Blackbeard's Castle and 2 km from Fort Christian.
Cons: No fitness center, beach or water access
Amenities: Internet and Wi-Fi are free, Smoke-free property, Kid-friendly, Airport shuttle, Air conditioning in rooms, Bar and restaurants, Free breakfast buffet, Full – service laundry, Outdoor pool. Rooms have Private balcony, Safe, Telephone, Wake-up service / alarm clock, Refrigerator and Flatscreen TV.
Click Here to Check the Latest Prices and Availability.
Best for: the budget driven young crowd
Pros: downtown location, close to all the happening bars and eating places of Charlotte Amelie, newly renovated so it feels fresh, located on Charlotte Amalie harbor, within walking distance of the major downtown shopping district, Transfer to the beaches is convenient, outdoor pool, courtyard with on-site bar, and gaming room are huge pluses.
Cons: Budget accommodation so limited and basic amenities. Rooms are basic, and it is located right on a major roadway that runs along the harbor.
Amenities: Free parking, internet facility, Pool, Fitness Centre with Gym, Workout Room, Bar / lounge, Business Centre with Internet Access, Meeting rooms, Outdoor pool, and restaurant.
Click Here to Check the Latest Prices and Availability.
Best for: Walking distance to Shopping and Restaurants
Pros: Small locally owned boutique hotel that is close to all of the sights and amenities of downtown Charlotte Amalie. Wonderful views of the harbor and nearby islands. Close to the airport.
Cons: No beach access onsite. Further drive from the best beaches on the island. Built on a hillside, so several stairs.
Amenities: Pool, sundeck and loungers, free WIFI, free parking, balconies and patios.
Click Here to Check the Latest Prices and Availability.
Best for: Young crowd and backpackers.
Pros: Only an 8-minute walk from open-air shopping at Market Square and 2.6 miles from Magens Bay Beach, superb staff – cooperative and friendly, superb views of Cruz Bay, complimentary personalized cooked-to-order breakfast served on a shady veranda, there is a bar there too. There is an outdoor pool and sundeck. Budget accommodation hence considerably light on the pocket. You can Walk to most city sights in 10 minutes or less.
Cons: Many steps to reach the place, more like a hostel than a hotel. No fitness amenities. According to reviews, rooms were small & dated, and cleanliness & maintenance could be improved. No windows in some rooms.
Amenities: Pool, Breakfast and Wi-Fi are free, Air conditioning in the rooms, child friendly place, non-smoking hotel.
Click Here to Check the Latest Prices and Availability.
HOTELS NEAR ST. THOMAS AIRPORT
It always makes sense for short trips to stay around the airport. Several St Thomas hotels near the airport are not only convenient for transportation, but also come with fantastic beaches. Although a bit further from the main tourist areas and best snorkeling beaches, these hotels can provide a great relaxing beach vacation, even for those short on time. The airport's proximity to downtown Charlotte Amalie makes these a great choice for business travelers and people who love to shop, but also want to enjoy the beach.
Best for: travelers with pets (pet friendly resort), wedding parties, honeymooners
Pros: All rooms are beachfront with balconies or windows, beautifully landscaped pool area wiht waterfall, affordable lodging, and proximity to the airport are the biggest plus points. This resort has a huge number of rooms, making it ideal for large groups.
Cons: Going here and there is a bit of an issue. The points of interest and tourist attractions are a little far off.
Amenities: Shuttle service to and from Lindberg Bay Hotel and Villa, fully served concierge, huge function hall, water sports, boutique store, laundry, and dry cleaning etc.
Click Here to Check the Latest Prices and Availability.
OVERALL
St Thomas attractions are all very typical to an island destination – there is something for everyone! Nobody gets bored on a beachy island. The island is small, with most areas of interest in an even smaller area, so getting from place to place is easy no matter where you stay.
St Thomas USVI is a popular vacation spot given the ease of access from the United States, so beware that many of the best accomodation options book up well in advance. The ideal time to visit St Thomas USVI is April to June – you can expect calm weather and next to no rainfall. The peak season is from December to March, and breezy evenings can make it a perfect vacation destination!
Hi!  We're Kristin & Andrew, lovers of everything tropical.  We spend as much time as possible searching for the best beaches, snorkeling, hiking, and fun in the sun!