Best Places to Stay in Tulum, Mexico
This page may contain compensated links. For more information read our disclaimer here.
Tulum, Mexico, is a blooming destination with a small colonial town sitting just next to the ancient Mayan Ruins and an amazing stretch of beach. Known as a popular unplugged beach vacation spot due to the focus on small eco-friendly boutique hotels, Tulum is an amazing place to get away from it all. So, let's dive deeper and look at some of the best places to stay when in Tulum.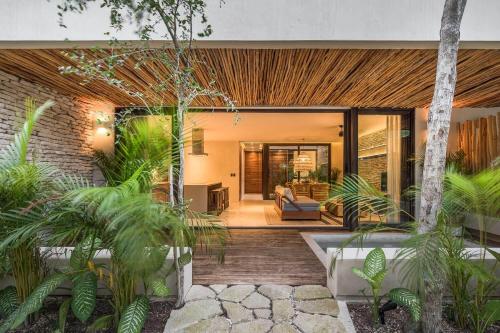 Located in the heart of the Riviera Maya, Copal Tulum Hotel is an eco-hotel that offers an outdoor swimming pool, patio, and fitness center, as well as a sun terrace and a garden.  Located at the edge of town near the ruins and beach access, this well-connected and convenient spot has everything you need. 
Click here for the latest prices and availability.
Located just off the private beaches of Tankah Bay, Dreams Tulum Resort and Spa is the perfect spot for a snorkel lover to use as home base. Completely renovated in 2013, and located just 5 minutes away from Tulum, the resort combines the ancient world of Maya with upscale fun and modern luxury. Every room offers a well-furnished, private terrace and balcony, and a mini-bar that is refreshed every day. If this is not enough to tempt you, Dreams Tulum is surrounded by powdery white sand and plenty of water activities.
Click here for the latest prices and availability.
Another great option on Tankah Bay,our FAVORITE stretch of beach outside tulum, Mereva Tulum by Blue Sky offers complementary kayaking, paddle boarding, and snorkeling. The rooms with sea views are just marvelous and most of them are equipped with twin sinks and rain showers. If you are looking for a romantic spot, this is it. Tankah Bay is comprised of nearly all vacation homes, leaving the beach and bay nearly empty.
Click here for the latest prices and availability.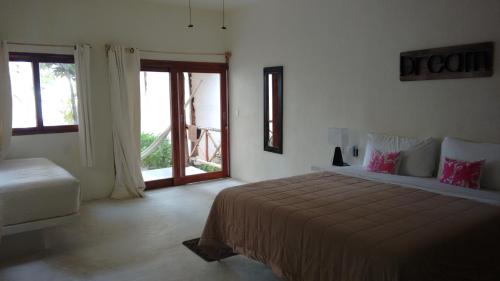 Located on the southern end of the hotel zone, Rosa Del Viento features sea and garden view rooms, with palapa roofs and private classy bathrooms. The rooms are provided with loungers and hammocks on the beach area, and the restaurant serves local as well as international cuisine by the beach. The property is surrounded by lush vegetation and beach area with breathtaking views over Caribbean Sea.
Click here for the latest prices and availability.
Located at just 5 mins drive away from the popular Mayan ruins, Amansala is a peaceful and beautiful setting on Tulum beach. Each room has its own charm, with thatched roofs and attractive décor. If you are a fan of massages, the good news is this resort offers a variety of treatments and yoga classes. You'll love the gorgeous white sand beach and upscale eco friendly vibe.
Hi!  We're Kristin & Andrew, lovers of everything tropical.  We spend as much time as possible searching for the best beaches, snorkeling, hiking, and fun in the sun!