Best Places to Stay in Vieques, Puerto Rico
This page may contain compensated links. For more information read our disclaimer here.
Ah Vieques! The brilliant sapphire colored waters and the amazing Caribbean vibe… this Puerto Rican island is an awesome getaway when you are looking for a bit of relaxation. There are boat tours to the Bioluminescent Bay,Mosquito Bay, one of the most breathtaking experiences available in the area, as well as gorgeous secluded beaches, and of course great snorkeling. There are multiple luxury or boutique hotels in Vieques to choose from, with most properties offering a small, intimate, and local feel.
Here are some of our favorite options: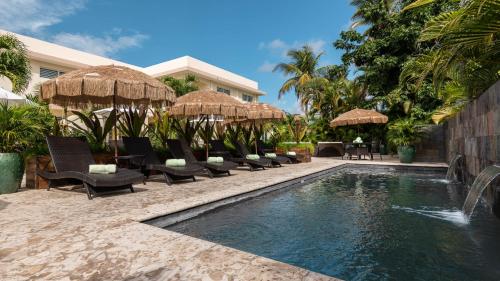 This is a cute, exclusive, 13-room boutique hotel situated in Esperanza on Vieques. Each room has air-conditioning and a refrigerator, along with in-room Wi-Fi. All the happening beach bars, boutiques and island activities are around the place. It is close to the Antonio Rivera Rodríguez Airport and it can also be reached by ferry from the main island. This is a couples friendly place and is highly rated. 
Check prices and availability here.
El Blok is in the small town of Esperanza, offers a restaurant and free Wi-Fi access for every guest. This property offers free parking also. For each floor there is a butler pantry, and all rooms have air conditioning and a balcony. There is round-the-clock staff availability, and the property has meeting facilities, a tour desk and is located just 2 miles from Bioluminescent Bay.
Check prices and availability here.
This comfortable and hospitable place is in Vieques and offers free WiFi, a sun terrace complete with a swimming pool and garden to all guests. Plenty of hiking, snorkeling, and diving options are nearby and Bioluminescent Bay is just a couple of miles away. This hotel is ideal for a couples' trip.
Check prices and availability here.
This is a unique, adult-only resort and is located in Vieques. The hotel is a historic building that boasts of an on-site bar and restaurant and a beautiful swimming pool. This iconic resort is situated on a hill with incredible views of the sea. There are a couple of tennis courts guests can use. The property is oceanfront, and each room has a balcony. Faro Punta Mula is a Spanish-built lighthouse, and Casa Vieja Gallery is a popular art gallery and they are both close by to this place.
Check prices and availability here.
The Finca Victoria is a gorgeous little bed and breakfast set atop one of the highest hills on Vieques offering incredible views. The lush tropical foliage that surrounds the property opens to a unique communal area with an eco resort feel, offers a pool, lounge area, and fully equipped kitchen. With delicious local breakfast options, this is the place to immerse yourself in a lush tropical oasis.
Check prices and availability here.
Vieques can be your next vacation – think about it! You can begin planning now!
Hi!  We're Kristin & Andrew, lovers of everything tropical.  We spend as much time as possible searching for the best beaches, snorkeling, hiking, and fun in the sun!