Best Places to Stay on St. John USVI | St. John Resorts & Villa Rentals
This page may contain compensated links. For more information read our disclaimer here.
by Kristin Young | Updated On: January 17, 2022 | St. John
Known as the 'crown jewel' of the US Virgin Islands, in this article I will be sharing our favorite St John US Virgin Islands hotels as well as Villas and Airbnbs, so you know where all the best places to stay on St John USVI are.
St John is also the smallest of the US Virgin Islands, and that's part of the charm. Accessible only by boat, helicopter or ferry from St Thomas, the US Virgin Islands national park occupies over half of the island, making this a great choice for nature lovers. St John is home to dolphins, hawksbill and green turtles, and of course amazing snorkeling, plus lush interiors with plenty of hiking.
Ferries from St Thomas come into and out of Cruz bay, which is the main town on the west end of the island, and a good starting point for looking for hotels on St John. Resorts in St. John are for the most part located on the west of the Island around Cruz bay. Due to national park restrictions, there's little development in the center of the island. You also won't find any all inclusive resorts on St John's.
Just want to know our top picks? The Westin with all the amenities of a resort right on the beach is one of our favorite spots. But, if you're looking for a splurge right on one of the best beaches on the island(there are less than a handful of these spots on the island), we love this Peter Bay Beach House. It sleeps 10, so get a group together- you won't regret it! Or, try a cool alternative lodging like renting a boat from The Moorings and stay at a different beach each night.
In this guide to where to stay, St John, I'll cover my favorite hotels in St John US Virgin Islands as well as my top Airbnb's on St John and St Johns rentals. Whether you're looking for the best hotels St John has, an eco resort St John or luxury resorts St John has, I've got you covered with all of my best places to stay in St John USVI.
ACCOMMODATIONS ST JOHN USVI MAP
ST. JOHN RESORTS
If you're wondering which resorts St. John Virgin Islands has, there are several great St John resorts to choose from.
All of the best St John island resorts are located in or around Cruz bay, and although people often ask us about Trunk Bay resorts (Trunk Bay is home to the best loved and one of the most beautiful beaches on the island), the fact is that there aren't any resorts at Trunk Bay since it's located within the Island's national park.
If you want to be near Trunk Bay, your best bet instead is to choose one of the If you want to be near Trunk Bay, your best bet instead is to choose one of the St John villa rental options on Peter Bay mentioned further down in this guide or one of the Cruz Bay resorts below and make a day trip from there.
One of the best known resorts in St. John, the Westin St John Resort is located just south of Cruz bay and occupies 400 yards of private white sand beach. An all-villa property, this St John resort is well suited for couples, families, or groups of friends, and is one of the best luxury hotels in St John US Virgin Islands.
Rooms are all villa-style here and include self-catering facilities with either a full kitchen or mini-kitchenette, making this a good option if you don't want to eat out all the time. Rooms range from Studios up to 3 bedroom Villas. There are 3 different room styles: Villas, Townhouses and Lofts (duplexes) and almost all feature private balconies. The Lofts have a more contemporary feel.
On site the Westin has plenty of facilities, including a pool, full-service spa, fitness centre, tennis courts, kids club and bar and restaurant. There's also a café/deli for cofees and quick bites.
If you're looking for resorts in St Johns on the beach, you won't be disappointed here. One of our favorite things about the Westin is the setting and view: With views out across the bay to St Thomas and your own private stretch of sandy beach, this is one of the best resorts St. John has.
Check prices and availability for the Westin St. John HERE.
Another of my favorite places to stay on St John USVI is Gallows Point resort, set on the ocean right in the heart of Cruz Bay with stunning views. This is one of the best St John US Virgin Islands resorts to stay at if you want a great location in the heart of everything, just a short walk to the ferry terminal, restaurants and bars.
Rooms at Gallows Point resort St John USVI are all one bedroom suites which include full kitchen facilities, views over Cruz Bay or out to the Caribbean Sea. The suites are divided into either Ocean View or Harbor View lower or upper and come with either 1 or 1.5 bathrooms, which is useful if you're in one of the duplex Harbor View Upper suites. All have either a balcony or patio.
Facilities on site include a pool with stunning views out over the ocean, restaurant (dinner only), coffee shop, and on site concierge who can help with arranging tours and activities around the island. They also rent snorkel gear.
There's also a small beach which has some great snorkeling off it, however note that the beach is rocky. If you're after one of the St John island hotels with a smooth sandy beach, the Westin may be a better bet, but the snorkeling at Gallows Point is better.
Check prices and availability at Gallows Point HERE.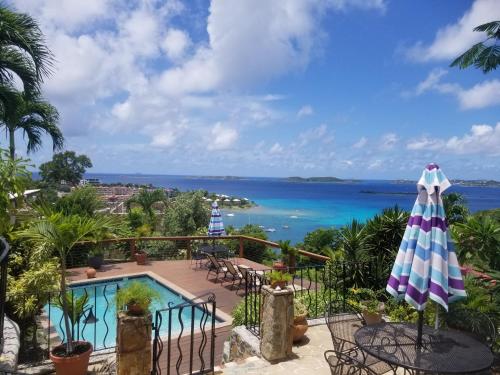 Located on the northern side of Cruz Bay and last of my top hotels in St Johns Virgin Islands, the Estate Lindholm Resort St John USVI is described as an 'imtimate tropical inn' and is one of the truly unique resorts on St John.
Set among 18th Century plantation ruins just outside the national park, here you get the feeling of being surrounded by lush, tropical forest, while being just a 10 minute drive to Caneel Bay or Trunk Bay beaches and 5 minutes from Cruz Bay ferry terminal (or a 10 minute walk into town). This is a family-run resort which is rich in history.
There are just 17 rooms here at Estate Lindholm which is set in the hillside above Cruz Bay, and each is individually named and designed. All feature a patio or balcony overlooking Cruz Bay Harbor, tea and coffee making facilities, and a microwave and fridge. There's a freshwater pool on site, continental breakfast, and beautiful landscaped gardens.
Although there's no direct beach access here, snorkeling gear is available for rent. The location of this lodging in St John USVI is also great for those who want to maximise their time exploring the national park and beaches of the north coast for snorkeling and relaxing or hiking. Here you're just a few minutes drive from Caneel and Trunk bay – just look up cruise ship times to avoid the crowds at Trunk Bay.
This is the best place to stay in St John for those who prefer smaller, more intimate resorts, love history, or want to be close to St John's best beaches.
Check prices and availability for Estate Lindholm HERE.
ST. JOHN VILLAS
Apart from St John's resorts, some of the best places to stay in St John are in smaller villa rentals or Aibnb's. Below I'll list my suggestions for the best St John USVI Airbnb's and vacation rentals.
One of the advantages of choosing this type of lodging St John USVI has is you'll have more choice over where you stay on the island, as rentals on St John USVI are dotted around.
Although there are really only a couple of options that are right on the beach, I have picked the following suggestions since they all have a walking path to the beach or are located right on the beach – something which is surprisingly hard to find on St. John, even if you're looking at the best resorts in St John. I've also picked them for great snorkeling nearby!
Next on our list of home rentals St John USVI has is Peter Bay Beach House – another of the very few beachfront rentals St John USVI options right on the beach.
Also located in the north shore area, this 4 bedroom villa is located on Peter Bay, just to the west of Caneel Bay and one bay along from Trunk Bay. As St. John villas go, this one is stunning! Sleeping up to 10, it has 4 bedrooms and 4.5 bathrooms, and its own outdoor swimming pool.
Featuring a huge kitchen, high ceilings and a lovely verandah that leads directly onto the beach, this is another of the St Johns rentals options for your vacation that you really won't want to leave.
Here you're around 5 minutes drive to Cruz Bay and less than 5 minutes drive along the north shore to Trunk Bay – but you don't have to venture far with excellent snorkeling from the beach right in front of your villa!
Check Prices and Availability Here.
An alternative Airbnb St John Island option, also in Peter Bay but set back from the beach is this 4 bedroom 4 bathroom exclusive St John villa.
Set on a hill at one end of the beach, you benefit here from cooling sea breezes and stunning sea views, but even better you get your own private beach access too. There are stone stairs down the hill through manicured gardens for your own private access to a beautiful sandy cove with great snorkeling just off shore. As rental homes St John USVI come, this one is really stunning.
There's a private pool with sea views and a hot tub along with balconies from the main living area and bedrooms that make it feel like you're looking at the ocean all the time.
Possibly (one of the) best airbnb St Johns USVI has, this is another great option for larger groups if you want the best of St John's to yourselves.
Check Prices and Availability Here.
Another of the rental properties in St John Virgin Islands we love is this suite in Peter Bay which is a private guest suite located in a house a few steps back from the gorgeous Peter Bay beach.
Sleeping 2 (1 bedroom, 1 bath), this is a great option if you want that million dollar view but are looking for cheap places to stay in St John USVI (or without the million dollar price tag, anyway!). There are even ocean views from the bedroom and kitchen, and there's a private terrace with Hammock and views as well.
This little hideaway is perfect for couples and right in the best area to stay in St John (especially if you love snorkeling) – speaking of which, snorkeling gear is provided.
Check Prices and Availability Here.
Located just off Hawksnest Beach, this cottage only sleeps 2, but it's possibly one of the best rental or Airbnb US virgin islands options around!
Located right on the beach, this St John Airbnb is located one bay east of Trunk Bay – pretty much as close as you can get, and Hawksnest Bay itself is home to some amazing snorkeling and a stunning beach, with hardly anyone else to be seen. This Airbnb St John USVI is one of the few cottages on the beach here, so you definitely won't have to worry about dealing with lots of tourists on the beach.
The Cottage has 2 queen sized beds, a kitchen, a bathroom and a beautiful deck area looking onto the beach. The owners live just behind and have their own fruit garden. Continental breakfast is served, and for other meals you can drive to Cruz Bay (around 10 minutes) for restaurants or stock up at the shops there and cook at home.
Truly one of the best places to stay in St John, Virgin Islands, you main problem is going to be leaving this paradise hideaway.
Check Prices and Availability Here.
Located on the quieter side of the island near Coral Bay, Haulover bay is great for snorkeling and is perfect if you're looking for places to stay in St John Virgin Islands where you can simply get away from it all (as the name, The Retreat, implies!).
One of the most beautiful rentals in St John USVI has, there are 2 bedrooms, 2.5 bathrooms, and the villa can sleep up to 10 people (although seeing as there are only 2 bedrooms, fewer would be more comfortable). Just down the steps awaits Dreekits bay, a beautiful stretch of sandy beach that's known by locals for its great snorkeling.
The villa features a large 40 foot lap pool, jacuzzi, and everything you'd expect from a luxury villa rental. The sleeping set up is two separate wings to the villa which each have a large king bedroom, plus additional space for children or extra guests, making this an ideal option for 2 families or 2 couples. There are stunning private outdoor rainshowers.
Definitely one of the best places to stay in St John USVI if you are looking for somewhere off the beaten path, Coral Bay is around 30 minutes' drive to the east across the island from Cruz Bay.
Check Prices and Availability Here.
Still looking for more Virgin Islands information? Find all of our USVI guides HERE.
Hi!  We're Kristin & Andrew, lovers of everything tropical.  We spend as much time as possible searching for the best beaches, snorkeling, hiking, and fun in the sun!